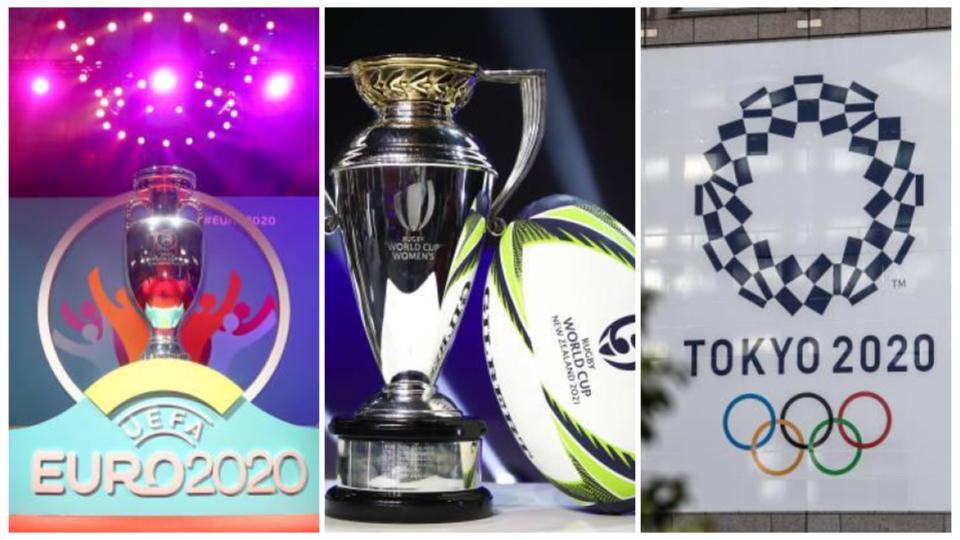 Due to the global outbreak of the coronavirus, the vast majority of sporting competitions scheduled for 2020 have been postponed.
The most significant sporting events scheduled to take place in 2021 are listed below. Though not every upcoming event can be included in the sports calendar, we have attempted to include all of the major sports events.
In 2020, the summer Olympic Games became the most significant event to be postponed. Tokyo, Japan's capital city, will welcome the sports society in July and August after a 12-month break.
Other sports, such as the NBA, NHL, MLB, PGA Tour, are rearranging their events later in summer. You can see many sporting events from the sports calendar on Espn+
European football leagues have started arranging matches with empty stadiums. The Euro 2020 has been moved from 2020 to 2021 and will now take place from June 11 to July 11 in 2021.
Stay connected and follow the events as they come back.
2021 sporting calendar: What's on the sports schedule for next month?
| | | |
| --- | --- | --- |
| Date | Sport | Event |
| April 1 – October 3, 2021 | Baseball | MLB Regular Season |
| April 9 – May 30, 2021 | Cricket | 2021 IPL |
| April 10, 2021 | Horse Racing | The Grand National |
| April 10, 2021 | UFC | UFC Fight Night: Till vs. Vettori |
| April 10, 2021 | La Liga | Real Madrid vs. Barcelona |
| April 11, 2021 | Premier League | Tottenham Hotspur vs. Manchester United |
| April 11, 2021 | Cycling | Paris – Roubaix |
| April 16 – 18, 2021 | MotoGP | Grand Prix of Portugal |
| April 16 – 18, 2021 | Formula 1 | Emilia Romagna GP |
| April 17 – August 1, 2021 | MLS | MLS Regular Season |
| April 17, 2021 | Boxing | Jake Paul vs. Ben Askren |
| April 24, 2021 | EFL Cup | EFL Cup Final: Manchester City vs. Tottenham Hotspur |
| April 27 – May 2, 2021 | Cycling | Tour de Romandie |
| April 30 – May 2, 2021 | MotoGP | Grand Prix of Spain |
| April 30, 2021 | Horse Racing | The Oaks |
| May 1, 2021 | Horse Racing | The Kentucky Derby |
| May 1, 2021 | Premier League | Manchester United vs. Liverpool |
| May 6 – 9, 2021 | Formula 1 | Spain GP |
| May 8 – 30, 2021 | Cycling | Giro d'Italia |
| May 8, 2021 | Premier League | Manchester City vs. Chelsea |
| May 9, 2021 | La Liga | Barcelona vs. Atlético Madrid |
| May 9, 2021 | Eredivisie | Ajax vs. Feyenoord |
| May 10 – July 15, 2021 | American Football | NFL Draft |
| May 10 – July 15, 2021 | Ice Hockey | NHL Playoffs |
| May 12 – 15, 2021 | Golf | British Masters |
| May 12, 2021 | Premier League | Chelsea vs. Arsenal |
| May 14 – 16, 2021 | MotoGP | Grand Prix de France |
| May 15, 2021 | Horse Racing | Preakness Stakes |
| May 18 – 21, 2021 | Basketball | NBA Play-In Tournament |
| May 20 – 23, 2021 | Golf | PGA Championship |
| May 20 – 23, 2021 | Formula 1 | Monaco GP |
| May 21, 2021 | Rugby | Rugby Challenge Cup Final |
| May 22 – July 22, 2021 | Basketball | NBA Playoffs |
| May 23 – June 6, 2021 | Tennis | French Open (Rolland Garros) |
| May 26, 2021 | UEFA Europa League | 2021 UEFA Europa League Final |
| May 28 – 30, 2021 | MotoGP | Gran Premio d'Italia |
| May 29, 2021 | UEFA Champions League | 2021 UEFA Champions League Final |
| May 30 – June 6, 2021 | Cycling | Criterium du Dauphine |
June
Under-21's Euro 2021 (June 6 – June 21) – To be moved to accommodate Euro 2020
Euro 2020 (June 11 – July 11) – Moved from June 2020
Copa America 2020 (June 11 – July 11) – Moved from June 2020
US Open golf
July
Wimbledon
Tokyo 2020 Olympic Games (July 23 – August 8) – Moved from July 2020
The Open golf
Tour de France
Women's Euro 2021 – Set to be moved to accommodate men's Euro 2020
August
English Premier League season starts
US Open tennis
World Athletics Championship – Set to be moved to accommodate Olympics
Tokyo 2020 Paralympic Games (August 24 – September 5) – Moved from August 2020
October
Cricket: ICC Men's T20 World Cup
November
December
PDC Darts World Championship