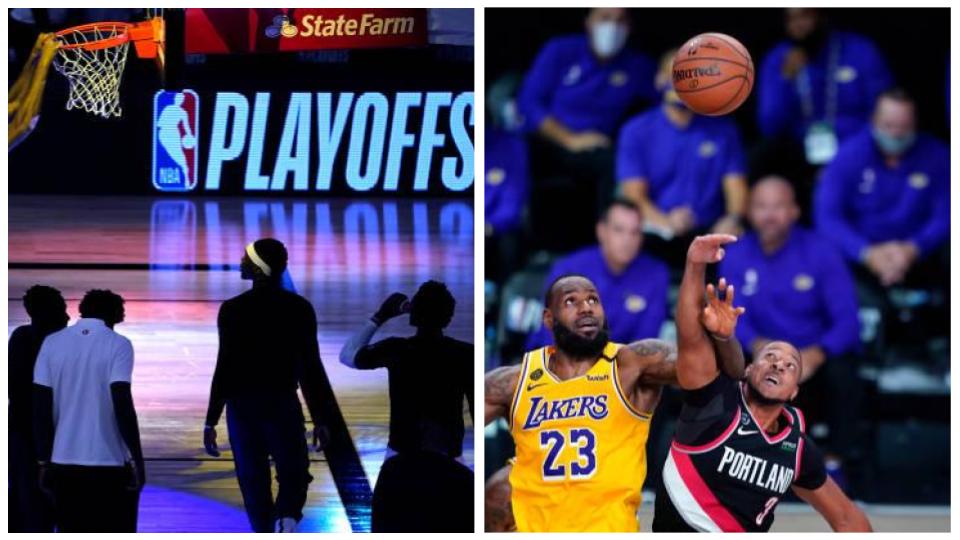 The NBA Finals TV Schedule has been released. To stay up to date on NBA games today, we've compiled all the key information for you right here. Below is the time, date, TV channel on which it will be televised.
What NBA games are on today?
The Celtics and Warriors, two of the NBA's most renowned clubs, will face off for a chance to win the Larry O'Brien Trophy this year. Boston Celtics and the Golden State Warriors will play the first game of the NBA Finals on Thursday, June 2. Golden State is in the NBA Finals for the sixth time in the last eight years, while Boston is there for the 22nd time in the team's history.
What channel will broadcast the NBA Finals?
ABC is set to broadcast the NBA Finals live in 2022. Every game that is broadcast on ABC may be viewed online through fuboTV.
NBA Finals TV schedule
Match/Date
TV channels
Boston Celtics vs Golden State Warriors
NBA Finals Game 1
Thursday, June 2
21:00 ET
USA: ABC
Radio: ESPN Radio, 95.7 The Game, 98.5 The Sports Hub
UK: Sky Sports Arena, Sky Sports Main Event
Boston Celtics vs Golden State Warriors
NBA Finals Game 2
Sunday, June 5
20:00 ET
USA: ABC
Radio: ESPN Radio, 95.7 The Game, 98.5 The Sports Hub
UK: Sky Sports Arena, Sky Sports Main Event
Golden State Warriors vs Boston Celtics
NBA Finals Game 3
Wednesday, June 8
21:00 ET
USA: ABC
Radio: ESPN Radio, 95.7 The Game, 98.5 The Sports Hub
UK: Sky Sports Arena, Sky Sports Main Event
Golden State Warriors vs Boston Celtics
NBA Finals Game 4
Friday, June 10
21:00 ET
USA: ABC
Radio: ESPN Radio, 95.7 The Game, 98.5 The Sports Hub
UK: Sky Sports Arena, Sky Sports Main Event
Boston Celtics vs Golden State Warriors
NBA Finals Game 5 (If Necessary)
Monday, June 13
21:00 ET
USA: ABC
Radio: ESPN Radio, 95.7 The Game, 98.5 The Sports Hub
Golden State Warriors vs Boston Celtics
NBA Finals Game 6 (If Necessary)
Thursday, June 16
21:00 ET
USA: ABC
Radio: ESPN Radio, 95.7 The Game, 98.5 The Sports Hub
Boston Celtics vs Golden State Warriors
NBA Finals Game 7 (If Necessary)
Sunday, June 19
21:00 ET
USA: ABC
Radio: ESPN Radio, 95.7 The Game, 98.5 The Sports Hub
NBA Key dates
July 2-3, 2022: California Classic (San Francisco – Lakers, Heat, Kings, Warriors)
July 5-7, 2022: Salt Lake City Summer League (Grizzlies, Thunder, 76ers, Jazz)
July 7-17, 2022: NBA Summer League (Las Vegas)
Sept. 30, 2022 & Oct. 2, 2022: Warriors, Wizards to play in NBA Japan Games 2022 Presented by Rakuten
Oct. 6, 2022 & Oct. 8, 2022: Milwaukee Bucks, Atlanta Hawks to play in Abu Dhabi Games 2022
Jan. 19, 2023: Detroit Pistons, Chicago Bulls to play in NBA Paris Game 2023
NBA All-Star Game schedule
The 2023 NBA All-Star Game is scheduled for February 19, 2023, at Vivint Smart Home Arena in Salt Lake City, Utah
The 2024 NBA All-Star Game is scheduled for February 14, 2024, at Bankers Life Fieldhouse in Indianapolis, Indiana