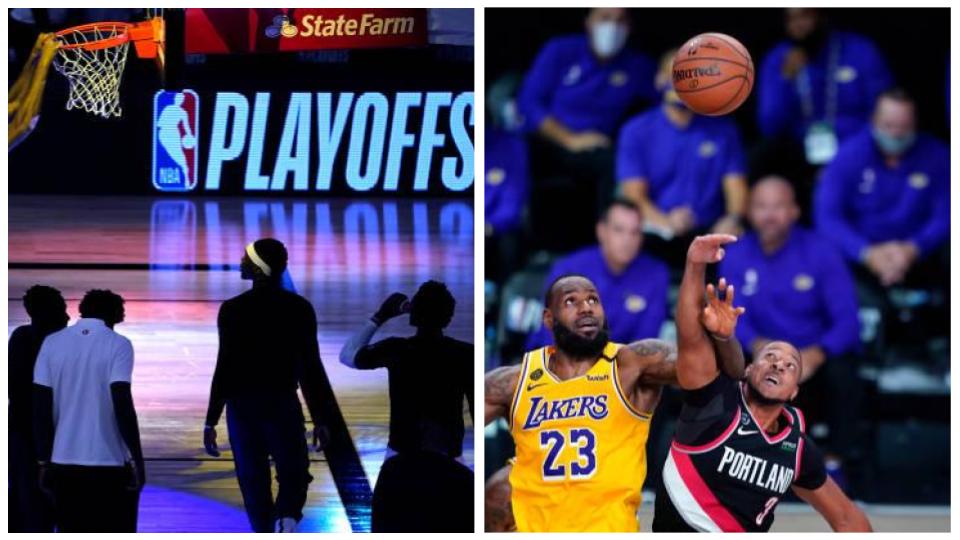 The 2022-23 NBA TV Schedule has been released. To stay up to date on NBA games today, we've compiled all the key information for you right here. The information provided below will help you stay on top of all the important events, deadlines, dates and TV channels on which it will be televised that will be present in the upcoming season.
On the first day of the 77th NBA season, October 18, the current Eastern Conference titleholder Boston Celtics will travel to Philadelphia to take on the 76ers, and the Golden State Warriors will travel to Los Angeles to face LeBron James and the Los Angeles Lakers.
What channel will broadcast the NBA games?
During the 2022-2023 NBA season, ESPN and ABC will work together to broadcast 100 regular season games across their respective networks. Every game aired on these channels may be viewed online through fuboTV.
NBA TV schedule
| DATE | TEAMS | TIME | TV |
| --- | --- | --- | --- |
| Tue, October 18 | Philadelphia at Boston | 7:30 pm ET | TNT |
| Tue, October 18 | LA Lakers at Golden State | 10:00 pm ET | TNT |
| Wed, October 19 | Orlando at Detroit | 7:30 PM ET | ESPN, Watch ESPN |
| Wed, October 19 | Dallas at Phoenix | 10:00 PM ET | ESPN, Watch ESPN |
| Fri, October 21 | Boston at Miami | 7:30 PM ET | ESPN, Watch ESPN |
| Fri, October 21 | Denver at Golden State | 10:00 PM ET | ESPN, Watch ESPN |
| Wed, October 26 | Brooklyn at Milwaukee | 7:30 PM ET | ESPN, Watch ESPN |
| Wed, October 26 | LA Lakers at Denver | 10:00 PM ET | ESPN, Watch ESPN |
| Fri, October 28 | Indiana at Washington | 7:30 PM ET | ESPN, Watch ESPN |
| Fri, October 28 | New Orleans at Phoenix | 10:00 PM ET | ESPN, Watch ESPN |
| Wed, November 2 | Charlotte at Chicago | 7:30 PM ET | ESPN, Watch ESPN |
| Wed, November 2 | Memphis at Portland | 10:00 PM ET | ESPN, Watch ESPN |
| Fri, November 4 | Chicago at Boston | 7:30 PM ET | ESPN, Watch ESPN |
| Fri, November 4 | Milwaukee at Minnesota | 10:00 PM ET | ESPN, Watch ESPN |
| Wed, November 9 | NY Knicks at Brooklyn | 7:30 PM ET | ESPN, Watch ESPN |
| Wed, November 9 | LA Lakers at LA Clippers | 10:00 PM ET | ESPN, Watch ESPN |
| Fri, November 11 | Minnesota at Memphis | 9:30 PM ET | ESPN, Watch ESPN |
| Wed, November 16 | Boston at Atlanta | 7:30 PM ET | ESPN, Watch ESPN |
| Wed, November 16 | Golden State at Phoenix | 10:00 PM ET | ESPN, Watch ESPN |
| Fri, November 18 | Milwaukee at Philadelphia | 7:30 PM ET | ESPN, Watch ESPN |
| Fri, November 18 | NY Knicks at Golden State | 10:00 PM ET | ESPN, Watch ESPN |
| Wed, November 23 | Dallas at Boston | 7:30 PM ET | ESPN, Watch ESPN |
| Wed, November 23 | LA Clippers at Golden State | 10:00 PM ET | ESPN, Watch ESPN |
| Fri, December 2 | LA Lakers at Milwaukee | 7:30 PM ET | ESPN, Watch ESPN |
| Fri, December 2 | Chicago at Golden State | 10:00 PM ET | ESPN, Watch ESPN |
| Wed, December 7 | Atlanta at NY Knicks | 7:30 PM ET | ESPN, Watch ESPN |
| Wed, December 7 | Boston at Phoenix | 10:00 PM ET | ESPN, Watch ESPN |
| Fri, December 9 | LA Lakers at Philadelphia | 7:30 PM ET | ESPN, Watch ESPN |
| Fri, December 9 | Milwaukee at Dallas | 10:00 PM ET | ESPN, Watch ESPN |
| Sat, December 10 | Boston at Golden State | 8:30 PM ET | ABC |
| Wed, December 14 | NY Knicks at Chicago | 7:30 PM ET | ESPN, Watch ESPN |
| Wed, December 14 | Minnesota at LA Clippers | 10:00 PM ET | ESPN, Watch ESPN |
| Fri, December 16 | Golden State at Philadelphia | 7:30 PM ET | ESPN, Watch ESPN |
| Fri, December 16 | Denver at LA Lakers | 10:00 PM ET | ESPN, Watch ESPN |
| Fri, December 23 | Memphis at Phoenix | 10:00 PM ET | ESPN, Watch ESPN |
| Sun, December 25 | Philadelphia at NY Knicks | 12:00 PM ET | ESPN, Watch ESPN |
| Sun, December 25 | LA Lakers at Dallas | 2:30 PM ET | ABC |
| Sun, December 25 | Milwaukee at Boston | 5:00 PM ET | ABC |
| Sun, December 25 | Memphis at Golden State | 8:00 PM ET | ABC |
| Sun, December 25 | Phoenix at Denver | 10:30 PM ET | ESPN, Watch ESPN |
| Wed, January 4 | Milwaukee at Toronto | 7:30 PM ET | ESPN, Watch ESPN |
| Wed, January 4 | Miami at LA Lakers | 10:00 PM ET | ESPN, Watch ESPN |
| Fri, January 6 | Chicago at Philadelphia | 7:30 PM ET | ESPN, Watch ESPN |
| Fri, January 6 | Miami at Phoenix | 10:00 PM ET | ESPN, Watch ESPN |
| Wed, January 11 | Milwaukee at Atlanta | 7:30 PM ET | ESPN, Watch ESPN |
| Wed, January 11 | Houston at Sacramento | 10:00 PM ET | ESPN, Watch ESPN |
| Fri, January 13 | Golden State at San Antonio | 7:30 PM ET | ESPN, Watch ESPN |
| Fri, January 13 | Denver at LA Clippers | 10:00 PM ET | ESPN, Watch ESPN |
| Sat, January 14 | Milwaukee at Miami | 1:00 PM ET | ABC |
| Wed, January 18 | Atlanta at Dallas | 7:30 PM ET | ESPN, Watch ESPN |
| Wed, January 18 | Minnesota at Denver | 10:00 PM ET | ESPN, Watch ESPN |
| Fri, January 20 | Miami at Dallas | 7:30 PM ET | ESPN, Watch ESPN |
| Fri, January 20 | Memphis at LA Lakers | 10:00 PM ET | ESPN, Watch ESPN |
| Wed, January 25 | Brooklyn at Philadelphia | 7:30 PM ET | ESPN, Watch ESPN |
| Wed, January 25 | Memphis at Golden State | 10:00 PM ET | ESPN, Watch ESPN |
| Sat, January 28 | Denver at Philadelphia | 3:00 PM ET | ABC |
| Sat, January 28 | NY Knicks at Brooklyn | 5:30 PM ET | ABC |
| Sat, January 28 | LA Lakers at Boston | 8:30 PM ET | ABC |
| Wed, February 1 | Brooklyn at Boston | 7:30 PM ET | ESPN, Watch ESPN |
| Wed, February 1 | Atlanta at Phoenix | 10:00 PM ET | ESPN, Watch ESPN |
| Sat, February 4 | Dallas at Golden State | 8:30 PM ET | ABC |
| Sun, February 5 | Philadelphia at NY Knicks | 6:00 PM ET | ESPN, Watch ESPN |
| Wed, February 8 | Philadelphia at Boston | 7:30 PM ET | ESPN, Watch ESPN |
| Wed, February 8 | Dallas at LA Clippers | 10:00 PM ET | ESPN, Watch ESPN |
| Fri, February 10 | Charlotte at Boston | 7:30 PM ET | ESPN, Watch ESPN |
| Fri, February 10 | Cleveland at New Orleans | 10:00 PM ET | ESPN, Watch ESPN |
| Sat, February 11 | LA Lakers at Golden State | 8:30 PM ET | ABC |
| Sun, February 12 | Memphis at Boston | 2:00 PM ET | ABC |
| Wed, February 15 | Miami at Brooklyn | 7:30 PM ET | ESPN, Watch ESPN |
| Wed, February 15 | New Orleans at LA Lakers | 10:00 PM ET | ESPN, Watch ESPN |
| Fri, February 24 | Miami at Milwaukee | 7:30 PM ET | ESPN, Watch ESPN |
| Fri, February 24 | Brooklyn at Chicago | 10:00 PM ET | ESPN, Watch ESPN |
| Sat, February 25 | Boston at Philadelphia | 8:30 PM ET | ABC |
| Sun, February 26 | Phoenix at Milwaukee | 1:00 PM ET | ABC |
| Sun, February 26 | LA Lakers at Dallas | 3:30 PM ET | ABC |
| Sun, February 26 | Minnesota at Golden State | 7:30 PM ET | ESPN, Watch ESPN |
| Sun, February 26 | LA Clippers at Denver | 10:00 PM ET | ESPN, Watch ESPN |
| Wed, March 1 | Cleveland at Boston | 7:30 PM ET | ESPN, Watch ESPN |
| Wed, March 1 | New Orleans at Portland | 10:00 PM ET | ESPN, Watch ESPN |
| Fri, March 3 | Brooklyn at Boston | 7:30 PM ET | ESPN, Watch ESPN |
| Fri, March 3 | Memphis at Denver | 10:00 PM ET | ESPN, Watch ESPN |
| Sat, March 4 | Philadelphia at Milwaukee | 8:30 PM ET | ABC |
| Sun, March 5 | Phoenix at Dallas | 1:00 PM ET | ABC |
| Sun, March 5 | Golden State at LA Lakers | 3:30 PM ET | ABC |
| Sun, March 5 | NY Knicks at Boston | 7:30 PM ET | ESPN, Watch ESPN |
| Sun, March 5 | Memphis at LA Clippers | 10:00 PM ET | ESPN, Watch ESPN |
| Wed, March 8 | Dallas at New Orleans | 7:30 PM ET | ESPN, Watch ESPN |
| Wed, March 8 | Toronto at LA Clippers | 10:00 PM ET | ESPN, Watch ESPN |
| Sat, March 11 | Milwaukee at Golden State | 8:30 PM ET | ABC |
| Sun, March 12 | NY Knicks at LA Lakers | 9:00 PM ET | ESPN, Watch ESPN |
| Mon, March 13 | Memphis at Dallas | 7:30 PM ET | ESPN, Watch ESPN |
| Mon, March 13 | Phoenix at Golden State | 10:00 PM ET | ESPN, Watch ESPN |
| Wed, March 15 | Philadelphia at Cleveland | 7:30 PM ET | ESPN, Watch ESPN |
| Wed, March 15 | Golden State at LA Clippers | 10:00 PM ET | ESPN, Watch ESPN |
| Wed, March 22 | Golden State at Dallas | 7:30 PM ET | ESPN, Watch ESPN |
| Wed, March 22 | Phoenix at LA Lakers | 10:00 PM ET | ESPN, Watch ESPN |
| Wed, March 29 | Dallas at Philadelphia | 7:30 PM ET | ESPN, Watch ESPN |
| Wed, March 29 | Minnesota at Phoenix | 10:00 PM ET | ESPN, Watch ESPN |
| Wed, April 5 | Chicago at Milwaukee | 7:30 PM ET | ESPN, Watch ESPN |
| Wed, April 5 | LA Lakers at LA Clippers | 10:00 PM ET | ESPN, Watch ESPN |
NBA Key dates
2022
September 27: Training camp begins for teams
September 30: Preseason games begin
October 14: Preseason games end
October 18: Start of the 2022-23 regular season
December 17: NBA Mexico City game: Miami Heat and San Antonio Spurs
2023
January 5: 10-day contracts can be signed
January 10: All contracts are guaranteed
February 9: Final NBA trade day at 3 p.m. EST
Feb. 17-19: NBA All-Star Weekend in Salt Lake City, Utah
Feb. 17-22: NBA All-Star break
March 1: Playoff eligibility waiver deadline
April 9: End of the regular season
April 11-14: Play-In Tournament
April 15: Home NBA Playoffs 2023
April 23: NBA early entry eligibility deadline at 11:59 p.m. EST
May 1-2: Home Conference Semifinals
May 16: NBA draft lottery
May 16-17: Home Conference Finals
June 1: NBA Finals 2023
June 12: NBA draft early entry withdrawal deadline at 5 p.m. EST
June 18: NBA Finals Game 7 (if necessary)
June 22: 2023 NBA draft
NBA All-Star Game schedule
The 2023 NBA All-Star Game is scheduled for February 19, 2023, at Vivint Smart Home Arena in Salt Lake City, Utah
The 2024 NBA All-Star Game is scheduled for February 14, 2024, at Bankers Life Fieldhouse in Indianapolis, Indiana