The 2021 NFL Draft will be held in Cleveland for the first time in league history. The concert will be held at FirstEnergy Stadium and the Rock and Roll Hall of Fame.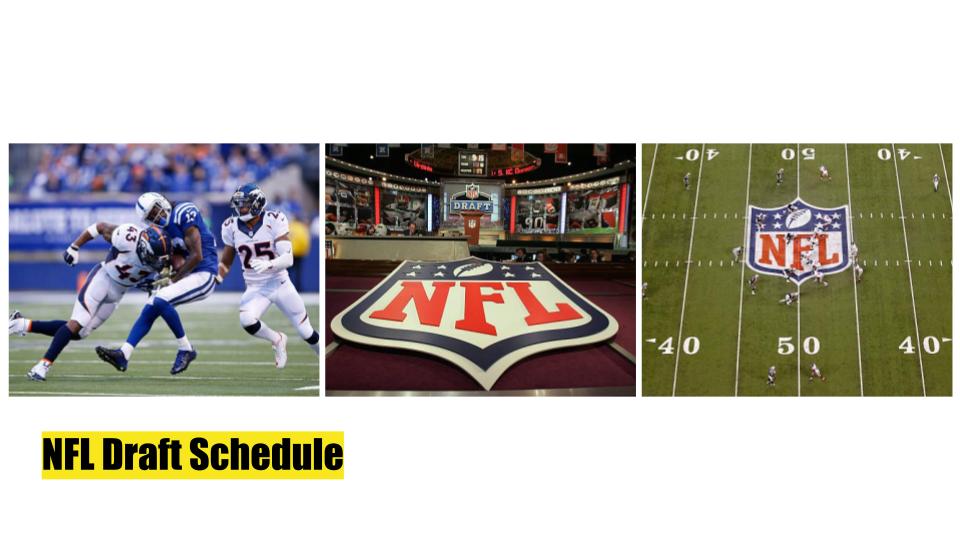 The NFL Draft in 2020 was unlike any other, taking the unprecedented initiative of hosting the first online draft of its history as a consequence of the global coronavirus pandemic.
The event was shown to audiences around the world using over 600 video cameras.
The time, place, draft order, and the most recent mock draft are included in this NFL draft schedule for 2021.
What time does the NFL draft start?

From Thursday, April 29 to Saturday, May 1, the NFL draft will be broadcast on three days.
The first round will be started on Thursday.. NFL draft schedule rounds 2 and 3 will be on Friday night. On Saturday, the action will conclude with the final four rounds.
The NFL draft schedule time is set to start at 8:00 p.m ET on Thursday, 7:00 p.m on Friday, and noon on Saturday.
What channel is the NFL draft on?
ESPN, ABC, and NFL Network will provide the NFL draft TV broadcast schedule.
Besides airing the event, NFL Network offers viewers professional analyses and expectations throughout the week.
Internet channels such as Sling TV, fuboTV, and YouTube TV can also be used to watch the draft.
Thursday, April 29th
Start time: 8 PM EST
TV channels: ABC, ESPN, NFL Network
Rounds: First round only
---
Friday, April 30th
Start time: 7 PM EST
TV channels: ABC, ESPN, NFL Network
Rounds: Second and third rounds
---
Saturday, May 1st
Start time: Noon EST
TV channels: ABC, ESPN, NFL Network
Rounds: Fourth, fifth, sixth, and seventh rounds
How to watch the NFL draft?
| | |
| --- | --- |
| Pick | Team |
| 1 | Jacksonville Jaguars |
| 2 | New York Jets |
| 3 | San Francisco 49ers from Dolphins through Texans |
| 4 | Atlanta Falcons |
| 5 | Cincinnati Bengals |
| 6 | Miami Dolphins from Eagles |
| 7 | Detroit Lions |
| 8 | Carolina Panthers |
| 9 | Denver Broncos |
| 10 | Dallas Cowboys |
| 11 | New York Giants |
| 12 | Philadelphia Eagles from Dolphins through 49ers |
| 13 | Los Angeles Chargers |
| 14 | Minnesota Vikings |
| 15 | New England Patriots |
| 16 | Arizona Cardinals |
| 17 | Las Vegas Raiders |
| 18 | Miami Dolphins |
| 19 | Washington Football Team |
| 20 | Chicago Bears |
| 21 | Indianapolis Colts |
| 22 | Tennessee Titans |
| 23 | New York Jets from Seattle Seahawks |
| 24 | Pittsburgh Steelers |
| 25 | Jacksonville Jaguars from Los Angeles Rams |
| 26 | Cleveland Browns |
| 27 | Baltimore Ravens |
| 28 | New Orleans Saints |
| 29 | Green Bay Packers |
| 30 | Buffalo Bills |
| 31 | Kansas City Chiefs |
| 32 | Tampa Bay Buccaneers |