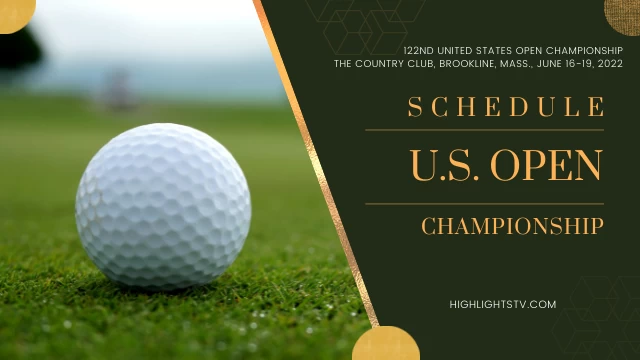 The U. S. Open is the second of the four largest golf majors that take place every year in the United States. The Country Club in the Brookline will be the tournament's location, which will run from the 16th to the 19th of June this year. Be sure to tune in for all the action for the US Open Golf TV schedule that happens throughout this competition.
2022 U.S. Open Golf TV schedule
Match/Date
TV channels
TIME (ET)
First Round
2022 US Golf Open
Thursday, June 16
Peacock
USA Network
NBC
USA Network
5:45 – 8:30 am
8:30 am -1 pm
1 – 4 pm
4 – 6 pm
Second Round
2022 US Golf Open
Friday, June 17
Peacock
USA Network
NBC
Peacock
5:45 – 8:30 am
8:30 am -3 pm ET
3 – 6 pm
6 – 7 pm
Third Round
2022 US Golf Open
Saturday, June 18
Peacock
NBC
9 – 11 am
11 am – 7pm
Final Round
2022 US Golf Open
Sunday, June 19
Peacock
USA Network
NBC
8 – 9 am
9 – 11 am
11 am – 6 pm
How to watch the 2022 U.S. Open live stream online
Thursday, June 16, 2022, will mark the beginning of four days of coverage on NBC and the Golf Channel. Live streaming will be available on Peacock, NBCSports.com, NBC Sports app.
MORE: The British Open 2022 TV Schedule
U.S. Open golf prize money 2022
The 2022 U.S. Open will be played at The Country Club in Brookline, and the purse is set at $12.5 million. However, the top 50 players on the PGA Tour will still earn over $2 million during this tournament, along with other prizes such as exemptions into different majors and sponsor exemptions also available to competitors.
The winner will get the prize money and a more stable position in the profession, with automatic invitations to the Masters, the British Open, and the PGA Championship. Last year's winner walked away with more than $2 million in prize money. Who will win the US Golf Open in 2022 is yet to be determined.
Possible Champion for the 2022 U.S. Open
The following is a list of the top five golfers who currently have the best chance of winning the competition.
Rory McIlroy
Will Zalatoris
Scottie Scheffler
Justin Thomas
Tony Finau