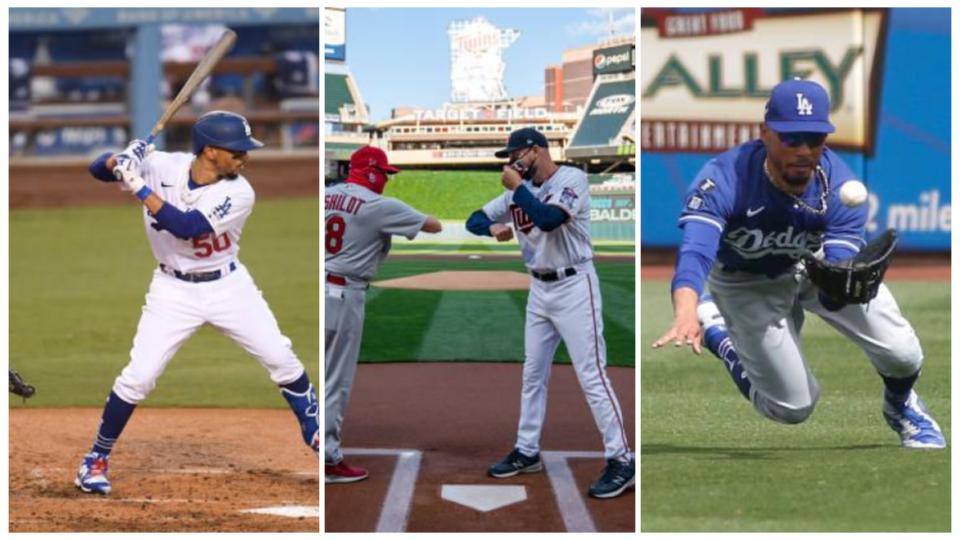 The MLB TV schedule for 2021 includes a complete list of times, dates, and TV networks. Also including Spring Training, the regular season, and the MLB Postseason.
You can see MLB baseball games on ESPN, TBS, Fox Sports, and MLB Network.
After a 60-game sprint in 2020, MLB is back for a complete portion of baseball, and it's getting started for all pretty fast.
All 30 teams are expected to begin at once.
For the first time since 1968, every MLB team can open the season on the same day.
Below is the complete MLB schedule, along with the current standings.
| | | | |
| --- | --- | --- | --- |
| DATE | GAME | NETWORK | PITCHERS |
| April 23, 10:10 PM ET | San Diego @ LA Dodgers | MLBN | Darvish vs Kershaw |
| April 24, 4:05 PM ET | Washington @ NY Mets | FS1 | Ross vs Stroman |
| April 24, 7:10 PM ET | Texas @ Chicago Sox | FS1 | Gibson vs Keuchel |
| April 24, 9:10 PM ET | San Diego @ LA Dodgers | MLBN | Snell vs Bauer |
| April 25, 7:00 PM ET | San Diego @ LA Dodgers | ESPN | Musgrove vs May |
| April 26, 7:00 PM ET | Chicago Cubs @ Atlanta | ESPN | Davies vs Morton |
| April 27, 7:10 PM ET | Boston @ NY Mets | ESPN | Richards vs Peterson |
| April 28, 7:20 PM ET | Chicago Cubs @ Atlanta | FS1 | Hendricks vs Wright |
| April 29, 7:20 PM ET | Chicago Cubs @ Atlanta | MLBN | Alzolay vs Ynoa |
May
DATE
GAME
NETWORK
PITCHERS
May 1, 4:05 PM ET
Cleveland @ Chicago Sox
FS1
McKenzie vs Giolito
May 2, 7:00 PM ET
NY Mets @ Philadelphia
ESPN
May 4, 7:00 PM ET
Houston @ NY Yankees
ESPN
May 5, 7:30 PM ET
LA Dodgers @ Chicago Cubs
ESPN
May 8, 4:05 PM ET
San Diego @ San Francisco
FS1
May 8, 7:20 PM ET
Philadelphia @ Atlanta
FS1
May 9, 7:00 PM ET
Philadelphia @ Atlanta
ESPN
May 10, 8:00 PM ET
LA Angels @ Houston
ESPN
May 15, 7:10 PM ET
Oakland @ Minnesota
FS1
May 15, 8:40 PM ET
St. Louis @ San Diego
FS1
May 16, 7:00 PM ET
St. Louis @ San Diego
ESPN
May 17, 7:00 PM ET
NY Mets @ Atlanta
ESPN
May 21, 7:10 PM ET
Milwaukee @ Cincinnati
FS1
May 22, 7:15 PM ET
Boston @ Philadelphia
FOX
May 22, 7:15 PM ET
Chicago Cubs @ St. Louis
FOX
May 22, 7:15 PM ET
LA Dodgers @ San Francisco
FOX
May 23, 7:00 PM ET
Chicago Cubs @ St. Louis
ESPN
May 25, 8:10 PM ET
LA Dodgers @ Houston
FS1
May 29, 7:15 PM ET
Atlanta @ NY Mets
FOX
May 29, 7:15 PM ET
Milwaukee @ Washington
FOX
May 29, 7:15 PM ET
San Francisco @ LA Dodgers
FOX
May 30, 7:00 PM ET
Atlanta @ NY Mets
ESPN
June
DATE
GAME
NETWORK
PITCHERS
June 1, 6:10 PM ET
Chicago Sox @ Cleveland
FS1
June 5, 7:15 PM ET
Boston @ NY Yankees
FOX
June 5, 7:15 PM ET
Chicago Cubs @ San Francisco
FOX
June 5, 7:15 PM ET
LA Dodgers @ Atlanta
FOX
June 8, 7:10 PM ET
Washington @ Tampa Bay
FS1
June 12, 7:15 PM ET
Houston @ Minnesota
FOX
June 12, 7:15 PM ET
San Francisco @ Washington
FOX
June 12, 7:15 PM ET
St. Louis @ Chicago Cubs
FOX
June 19, 7:15 PM ET
Chicago Sox @ Houston
FOX
June 19, 7:15 PM ET
Cincinnati @ San Diego
FOX
June 19, 7:15 PM ET
St. Louis @ Atlanta
FOX
June 19, 10:07 PM ET
Detroit @ LA Angels
FS1
June 26, 4:05 PM ET
Kansas City @ Texas
FS1
June 26, 7:15 PM ET
Chicago Cubs @ LA Dodgers
FOX
June 26, 7:15 PM ET
NY Yankees @ Boston
FOX