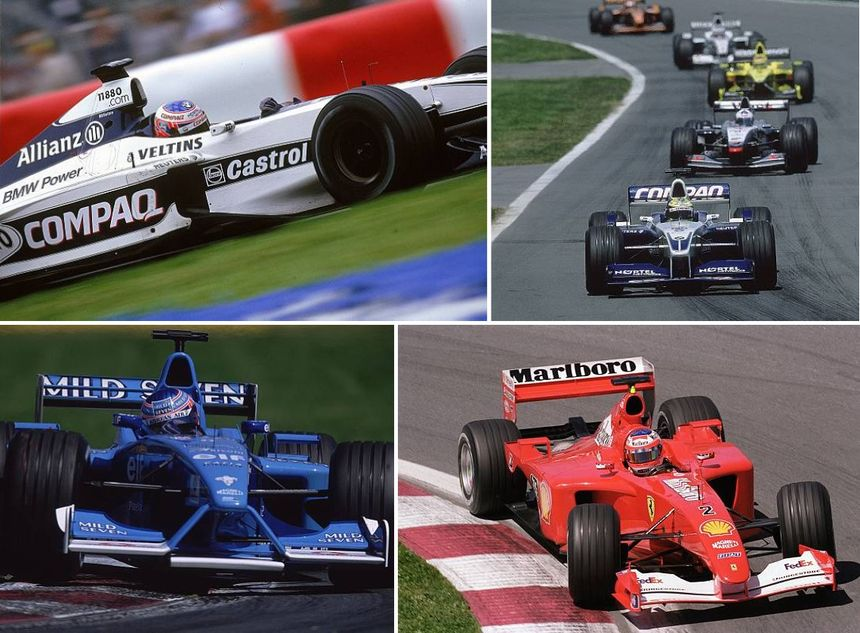 The Canadian GP 2022 of Formula 1 is the most important sporting event in all of Canada, and it takes place in Montreal every year. The Canadian Grand Prix circuit is built on an island in the St. Lawrence River, close to the central business district of Montreal. This location helps to create a pleasant mood, as spectators can enjoy both the racing and the view of the city skyline.
Straightaways on the Circuit Gilles-Villeneuve can reach speeds of over 300 km/h, and the 4,361 m of the track are covered by the drivers in less than one minute and fifteen seconds. Follow our guide below to watch a Monaco Grand Prix free live stream. The Montreal F1 race is full of drama and adrenaline. It encourages many driving faults and overtaking because of its tight 14 curves that put a lot of pressure on the vehicles' brakes.
Make sure you get your Montreal F1 tickets well in advance since these exciting races will sell out quickly. Let's look at the schedule for the upcoming sessions in Montreal and see when they all take place.
When is the Canadian Grand Prix 2022?
The 2022 Canadian GP will take place on Sunday, June 19, on the 4.361-kilometer Circuit Gilles-Villeneuve in Montreal.
What time does the Canadian GP start today?
Race Date: Sunday, June 19
Start time: 2 p.m. ET
Track: Circuit Gilles Villeneuve
The start of the race is scheduled for 2:00 p.m. local time. Montreal is located in the Eastern Daylight Time (EDT) zone, four hours behind UTC. The pre-race show on ESPN generally began airing an hour before the race started.
The full broadcast schedule for Formula 1 action at the Montreal Grand Prix can be found below. All times are based on the Eastern time zone.
How to watch the Montreal Canadian GP live stream
Formula 1 broadcasting rights in Canada are held by TSN and RDS, two sports networks owned by Bell Media. You may also access live coverage of race days by subscribing to Formula One's T.V. Pro streaming service.
ABC, ESPN, and ESPN 2 are good ways to watch the races if you have a U.S. cable package. Sky Sports in the United Kingdom will broadcast Formula 1 Canadian GP on the Sky Sports F1 channel. Races may be watched for free on ServusTV in Austria with German commentary and on RTBF in Belgium with French commentary.
THURSDAY JUNE 16th, 2022
| TIME | ON TRACK ACTIVITY |
| --- | --- |
| 9:00 AM TO 12:00 PM | PIT LANE WALK |
FRIDAY JUNE 17th 2022
| TIME | SERIES | ON TRACK ACTIVITY |
| --- | --- | --- |
| 7:30 AM | | VENUE OPENS TO PUBLIC |
| 8:25 AM TO 8:55 AM | NISSAN SENTRA CUP | PRACTICE SESSION |
| 10:05 AM TO 10:30 AM | F-1600 | PRACTICE SESSION |
| 10:55 AM TO 11:25 AM | NISSAN SENTRA CUP | QUALIFYING SESSION |
| 11:50 AM TO 12:15 PM | FERRARI CHALLENGE | 2nd PRACTICE SESSION |
| 2:00 PM TO 3:00 PM | FORMULA 1 | 1st PRACTICE SESSION |
| 3:30 PM TO 3:50 PM | FERRARI CHALLENGE | 3rd PRACTICE SESSION |
| 5:00 PM TO 6:00 PM | FORMULA 1 | 2nd PRACTICE SESSION |
| 7:30 PM | | VENUE IS CLOSED |
SATURDAY JUNE 18th, 2022
| TIME | SERIES | ON TRACK ACTIVITY |
| --- | --- | --- |
| 7:30 AM | | VENUE OPENS TO PUBLIC |
| 8:30 AM TO 9:00 AM | FERRARI CHALLENGE | QUALIFYING SESSION |
| 9:25 AM TO 9:55 AM | F-1600 | QUALIFYING SESSION |
| 10:20 AM TO 10:50 AM | NISSAN SENTRA CUP | 1st Race (15 Laps or 25 Minutes) |
| 11:15 AM to 11:45 AM | FERRARI CHALLENGE | 1st Race (15 Laps or 25 Minutes) |
| 11:50 AM TO 12:20 AM | FORMULA 1 | TEAM PIT STOP PRACTICE |
| 1:00 PM TO 2:00 PM | FORMULA 1 | 3rd PRACTICE SESSION |
| 2:30 PM TO 3:00 PM | F-1600 | 1st RACE(12 LAPS OR 25 MINUTES) |
| 4:00 PM TO 5:00 PM | FORMULA 1 | QUALIFYING SESSION |
| 7:30 PM | | VENUE CLOSED |
SUNDAY JUNE 19th, 2022
| TIME | SERIES | ON TRACK ACTIVITY |
| --- | --- | --- |
| 8:00 AM | | VENUE OPEN TO PUBLIC |
| 9:10 AM TO 9:40 AM | F-1600 | 2nd RACE(12 LAPS OR 25 MINUTES) |
| 10:10 AM TO 10:40 AM | NISSAN SENTRA CUP | 2nd RACE(12 LAPS OR 25 MINUTES) |
| 11:10 AM TO 11:40 AM | FERRARI CHALLENGE | 2nd RACE(12 LAPS OR 25 MINUTES) |
| 12:00 PM TO 12:30 PM | FORMULA 1 | DRIVERS PARADE |
| 1:44 PM TO 11:46 PM | FORMULA 1 | CANADIAN NATIONAL ANTHEM |
| 2:00 PM TO 4:00 PM | FORMULA 1 | GRAND PRIX DU CANADA (70 LAPS OR 120 MINUTES) |
| 7:30 PM | | VENUE IS CLOSED |